Skip Navigation
Website Accessibility
Welcome to Quilt Connection, Etc.!

At Quilt Connection, you'll find
over 6000 bolts
of designer fabrics, from around the world, along with the newest book titles, patterns, notions, kits, and machine embroidery supplies to meet your creative needs. As an authorized dealer of both Husqvarna Viking and Pfaff, we carry a full line of sewing machines, as well as provide qualified repair services for all machine brands. Located in Rapid City, SD, our shop features a welcoming atmosphere where learning and creativity thrive. We offer a wide range of classes, with friendly instructors to encourage and support you, and fun staff members who are always happy to assist you in any way they can.
Join our new Block Swappers Club
and enjoy the fun of swapping blocks and making really scrappy quilts.
Make 12 identical blocks each month for six months and end up with 72 different blocks!

For only $5 you will receive instructions, block pattern, scrappy quilts ideas, and six months of swapping fun. Meet the other swappers at exclusive swap meets!

Sign up anytime in December and January. Your first 12 blocks are due in the store by February 1. We will swap 'em up so you can get 'em back after the 10th of the month.
Some questions you may have . . .
Can I start later? Yes, but you will have fewer blocks at the end.
I want more blocks; can I send in more? You can pay $5 more and get a second membership. Bring in two different sets each month and get back twice as many blocks, but you may get some duplicates between the two sets.
I have lots of scraps. Do all of the blocks I make need to be the same? No. Use your scraps, but keep to the theme. It's just easier to make them all the same.
What if I have to miss a month? Oh no! Try not to, but if you must, it's okay. If you know in advance, drop off two months, labeled in separate bags, and we will save them and swap them for you while you are gone. Or just skip it and have fewer blocks at the end.

FabShop Hop - November 2023 - Grand Prize Giveaway
We are excited to be giving away a bernette 70 DECO computerized embroidery machine as the Grand Prize for the November FabShop Hop!
Retail value of $2,269.00!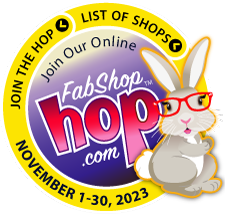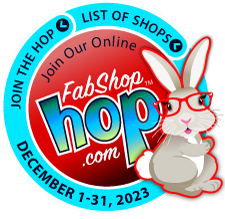 Beautiful Patriotic Panels and Fabrics

For Your Loved Ones and/or Quilts of Valor




Our Brands