Embroidery


DESIGNER EPIC™
Whether you're sewing, embroidering or quilting, the DESIGNER EPIC™ top-of-the-line machine enable you to fulfill your greatest ideas. The first and only smart machine, thoughtfully created for you!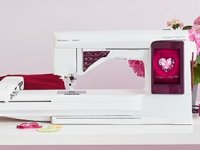 DESIGNER RUBY Royale™
Discover innovative techniques and built-in convenience features that help bring your creativity to the next level with this second in line sewing and embroidery machine.
DESIGNER JADE™ 35
Want to turn your creativity up a notch? Let embroidery work its magic! The DESIGNER JADE™ 35 sewing and embroidery machine is the ideal model for personalizing any project.